Abigail Peppercorn is a character in Red Dead Revolver.
Background
Abigail was a school teacher whose students included a young Joshua, who later became known as Pig Josh. Her husband Alfred ran a feed shop which became very successful. According to Sheriff Bartlett the success of the shop may have resulted from Alfred's desire to spend as much time there (and away from Abigail) as possible. She is now just a friendly old citizen of Brimstone.
Interactions
Abigail is the friendly old woman who lives in Brimstone - although the first meeting with this woman, you just place aboard the Pan-Atlantic Western Railroad Express. She is always dressed in gray and can be found on the quest "train car",-in which appears asleep and snoring. Also will interact with it in the second and fourth visit to Brimstone.
Mission Appearances
Between missions in Brimstone
Showdown Mode
This character is not available in Showdown Mode.
Sheriff Bartlett's Journal
Abigail is listed in Sheriff Bartlett's Journal on pages 220 - 221 under the Good People of Brimstone section. The pages are unlocked by purchasing the Soup Ladle.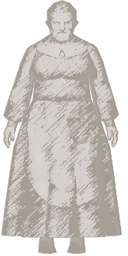 Related Content
Related Content for Abigail Peppercorn

Wiki Content
External Content
The links above will perform a search for the content that matches this page's name.
Community content is available under
CC-BY-SA
unless otherwise noted.