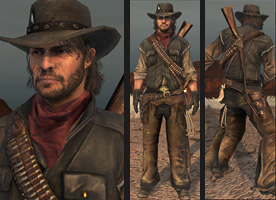 The Bollard Twins Outfit is an outfit available to be worn by John Marston and can be obtained in Red Dead Redemption' s single player campaign. This outfit is one of the nine required for the 100% game completion statistic.
In-game description
"Disguise yourself as part of the Bollard Twins gang."
Characteristics
Wearing this outfit will allow you to be treated like one of their gang in Hennigan's Stead.
You have chaps and a red bandana. This could be a traditional cowboy attire in the real world.
Location
You can find the requirements by looting the bodies in the mission "Justice in Pike's Basin".
Acquisition
Scrap 1: Search Thieves' Landing (Inside a chest, in an upstairs room in the warehouse by the pier. It can be looted during the Irish mission "On Shaky's Ground" or any other time in the game).
Scrap 2: Complete a Nightwatch job in MacFarlane's Ranch
Scrap 3: Win at Horseshoes in MacFarlane's Ranch (The more you wager on the game, the more difficult your opponent. Just wager a dollar and it will be much easier to win.)
Scrap 4: Claim a Bollard Twins Gang Bounty alive. Wanted Posters appear at MacFarlane' s Ranch and also in Armadillo.
Scrap 5: Defend residents of Hennigan's Stead from the Bollard Twins Gang (this can be tough, but going to the Bollard Twins outfit then selecting "track" will create an area on the map in which the player can trigger a random event involving the Bollard Twins gang, therefore defending the residents).
Scrap 6: Purchase at the tailor in Thieves' Landing (normally costs $150).
Trivia
Killing fellow gang members while wearing this outfit may cause a loss of Honor points. While clearing Pike's Basin with this outfit, use a Bandana.
This outfit also looks similar to the Cowboy Outfit worn by John Marston, with the addition of a red bandana worn around his neck, and brown leather chaps, those two items being the identifying markers of the Bollard Twins gang, much like all the Walton Gang members wear a hat with a red band.
Gallery
Video
thumb|left|300px|A full guide on how to acquire the Bollard Twins Outfit.
Achievements/Trophies
Obtaining the Bollard Twins Outfit contributes toward acquisition of the following Achievement/Trophy:
| | |
| --- | --- |
| | Attain 100% List in the singleplayer game completion list. |
Community content is available under
CC-BY-SA
unless otherwise noted.