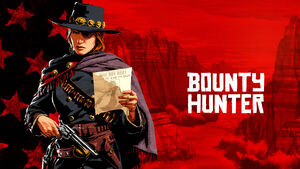 Bounty Hunter is one of the four Specialist Roles in Red Dead Online.
Description
Bounty Hunters track down dangerous criminals, turning them in dead or alive in return for a reward.[1]
License
To get started as a Bounty Hunter the player must obtain the Bounty Hunter License in Rhodes. The standard cost is 15 Gold Bars. After that, they will be able to go to any Bounty Posters across the map to start a bounty hunting mission.
Task
Licensed Bounty Hunters can pick up work by visiting bounty boards located near law offices, post offices and train stations across the states. There is no shortage of criminals to be dealt with and they range in difficulty, from lone low-level criminals to notorious outlaws with armed protection details and a watchful eye. Taking on an armed gang or bringing multiple targets to justice is made easier with the help of a Posse, who all will earn a cut. And keep in mind, bringing in targets alive will yield a greater reward.
Ranking Up
Eclipsing Bounty Hunter Rank 12 will open up the opportunity to take down other players with high bounties of $20 or more. Bounty Hunters will be notified through an invite about the opportunity to hunt down the wanted player when they're nearby in a structured pursuit. The wanted player must escape (or surrender) within the allotted time and if captured, they'll also have opportunities to escape and flee. If the Bounty Hunter brings the target in alive, they'll receive an award while the criminal serves time.
Bounty Hunter Skills
Eagle Eye+: Track enemies while sprinting or galloping

Focus: Targets glow red in Eagle Eye

Reinforced Lasso: A lasso made with reinforced rope to keep bounties secure
Reverse Spin: Perform a Reverse Spin with a single pistol or revolver
Tonics Satchel Upgrade: Store more items in your Tonics Pouch
Spin Up: Perform a Spin Up with a single pistol or revolver
Kit Satchel Upgrade: Store more items in your Kit Pouch
Tracking Arrow Pamphlet: A pamphlet recipe on how to craft Tracking Arrows
Reverse Spin Up: Perform a Reverse Spin Up with a single pistol or revolver
Ducking: Duck for protection while on horseback
Bolas: A thrown weapon, perfect for tangling the legs of bounties
Bounty Wagon: A wagon for securely retaining bounty targets
Perception: Receive a notification of bounties from a greater distance
Alternating Flips: Perform Alternating Flips with a single pistol or revolver
Dual Gun Spinning: Perform gun spinning tricks with two pistols or revolvers
Gallery
References
↑

In-game Description.
Community content is available under
CC-BY-SA
unless otherwise noted.