Hey there, cowboy. This article looks a little bit small.
I reckon you could impress me by contributing to it. Don't be shy now.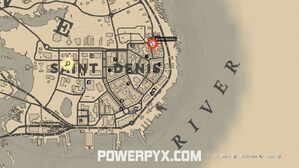 Brothers and Sisters, One and All is a mission in Red Dead Redemption 2.
Mission overview
A street kid steals Sister Calderón's crucifix. Arthur chases the kid throughout Saint Denis. After Arthur retrieves the crucifix, he runs into Edith Downes, who alerts a lawman that Arthur is harassing her.
Story
Arthur arrives at a small church where Brother Dorkins and Sister Calderón are teaching street children to read. Arthur greets them and Brother Dorkins introduces Arthur to Sister Calderón. During the conversation, one of the kids decides to steal Sister Calderón's crucifix and runs away. Arthur chases after the kid and notices that the kid has been caught by a man who is angry at the kid for trying to steal his watch. Arthur intervenes and threatens the man to let the kid go. The kid thanks Arthur and drops the crucifix on the ground.
Afterward Arthur encounters Edith Downes, who became a prostitute and accidentally offers her services to Arthur. Arthur recognizes her and she realizes that it is Arthur. She calls out to nearby Saint Denis lawman and states that Arthur is harassing her. Arthur will have to escape the lawmen pursing him. After escaping the law, Arthur will have to look for Sister Calderón without alerting the law.
Arthur will find Sister Calderón talking to a priest at the cathedral. Arthur hands over her crucifix and she thanks him for getting her crucifix back.
Gold Medal Objectives
Find the kid within 19 seconds.
Video walkthrough
Community content is available under
CC-BY-SA
unless otherwise noted.