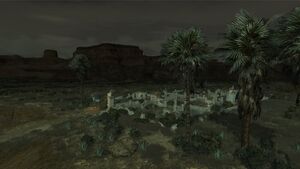 A Cemetery or graveyard are locations in Red Dead Redemption and Red Dead Redemption 2 where deceased people are buried. Many cemeteries are found throughout the Redemption series.
Overview
More graves may be added as you progress through the story or complete Stranger side-missions. Cemeteries are also used in replacement of Gang Hideouts in the Undead Nightmare DLC.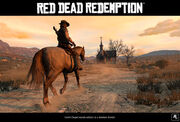 Red Dead Redemption
In Red Dead Redemption, John Marston travels to various graveyards to help Seth Briars, who is a grave robber. Marston has to assist him performing tasks, such as moving corpses for him.
In the stranger mission "Let No Man Put Asunder", Marston travels to Odd Fellow's Rest and finds Peter Turner's grave.
Undead Nightmare
In Undead Nightmare, cemeteries are breeding grounds for the Undead hordes. The player must burn coffins inside the cemetery and then proceed to clear said cemetery of all undead, including one previously deceased storyline character buried in the vicinity. After all zombies are killed and all coffins are burned, the cemetery is cleansed and will stay that way for one in-game day. Graveyards are also the locations used for Multiplayer maps in the Undead Overrun game mode.
Cemetery Markers
When visiting the various cemeteries found throughout the game, be sure to pay your respect to the dead and read some of the tombstones. There are often humorous ends that many a person met and there is also some information related to the other many colorful characters in the game. While not all are legible, players may use a scope or aim at the markers to get a closer view of them.
List of Graveyards
New Austin
Nuevo Paraiso
West Elizabeth
New Hanover
Lemoyne
Ambarino
Trivia
Gallery