There are many characters that the player will encounter as allies, enemies, or in other roles throughout Red Dead Revolver.
Character Classes
Central Characters - Central characters are characters without whom the story would not even occur. They transcend any particular section of the story because they have a larger overall importance due to their actions before the in-game story begins.
Major Characters - Major characters are characters with a large role in the game. Most of them help Red with his quest while others tries to hunt down Red. Most of the major characters are playble characters.
Supporting Characters - Supporting characters are characters with a large role in the game, but not as big as central or major characters.
Minor Characters - Minor characters are characters with small to no role in the game. Most of them appear only in one or two missions, while some do not appear in the game at all and are only referenced in Sheriff Bartlett's Journal and/or as playable characters in Showdown Mode.
Central Characters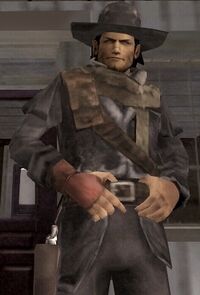 Major Characters
Supporting Characters
Minor Characters
Mission Bosses
Note: Characters listed here have actual "boss fights". Characters who end a mission with a simple duel are not included here.
Other Minor Characters
Showdown Mode Only Characters
Related Content
Related Content for Characters in Revolver

Wiki Content
External Content
The links above will perform a search for the content that matches this page's name.
Community content is available under
CC-BY-SA
unless otherwise noted.