Hey there, cowboy. This article looks a little bit small.
I reckon you could impress me by contributing to it. Don't be shy now.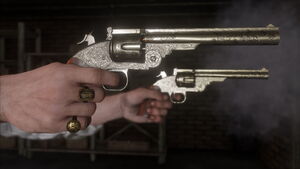 Dual-wielding is a gameplay mechanic featured in Red Dead Redemption II and, to a lesser extent, Red Dead Revolver.
Description
Red Dead Revolver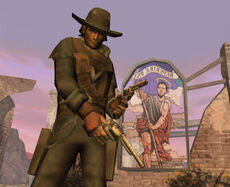 In Revolver, the only dual weapon available in normal gameplay is the Twin Revolvers. Mechanically, they work the same as the standard Revolver model with an identical rate of fire and stopping power. The Twin Revolvers' only difference is its doubled ammo capacity.
During the story mission "Freak Show", the players get to control Jack Swift and his unique set of weapons, the Showstoppers, a pair of custom Twin Revolvers. The weapon is also available when choosing Swift as the playable character in Showdown Mode.
Red Dead Redemption II
Dual-wielding is added as a regular game mechanic in Redemption II. The player character can dual-wield any pair of handguns. The player can dual-wield different handgun models together as the player can dual-wield pistols, revolvers and even sawed off shotguns.
Several major characters, such as Dutch van der Linde and Micah Bell, will also dual-wield revolvers.
Trivia
Gallery
Red Dead Revolver
Red Dead Redemption II
Related content
Related Content for Dual-wielding

Wiki Content
External Content
The links above will perform a search for the content that matches this page's name.
Community content is available under
CC-BY-SA
unless otherwise noted.