Isabeau Katharina Zinsmeister is a minor character mentioned in Red Dead Redemption 2.
Background
The princess disappeared in 1884 from a remote hunting lodge while on a hunting trip during a private family visit to the United States. There are numerous theories on what happened to her: some believed she was murdered, some that she was abducted and kidnapped, although no ransom note has ever been received, others post that she was eaten by wild animals.
Her disappearance has been a source of never-ending trauma and embarrassment to the Royal Family of Luxembourg, and especially her brother, who has frequently implored the American people to assist in finding information regarding her whereabouts, and himself denies any wrongdoing in her disappearance.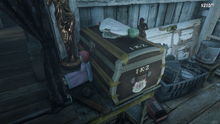 Trivia
Her missing person poster can be found outside of the saloon in the Van Horn Trading Post.
An article marking the 15 year anniversary of the kidnapping can be found in the New Hanover Gazette No. 29.
The player can encounter a man near Elysian Pool that is trying to find the missing princess. He informs the player that a local told him to journey to the Van Horn Trading Post in his search for clues.
Upon arrival, a decorated chest with her initials and the Luxembourg Royal Seal can be found at the fence in the Van Horn Trading Post.
She would be about twenty during the main story set in 1899 & around twenty-eight years of age during the epilogue of 1907.
In Manzanita Post, the player can search the smaller house and find find a "Norwegian photo" showing a young blonde woman with a man, and a "Norwegian" letter. Whether they are related to the Princess is yet to be established.
Their disappearance is similar to that of Madeleine McCann, who disappeared in 2007. Madeleine McCann's case for Rockstar Games was probably an inspiration for the disappearance of Isabeau Katharina Zinsmeister.
Related Content
Related Content for Isabeau Katharina Zinsmeister

Wiki Content
External Content
The links above will perform a search for the content that matches this page's name.
Community content is available under
CC-BY-SA
unless otherwise noted.