Legendary animals are exceptionally rare animals that are stronger, faster and more profitable than their more common counterparts. They appear in both Red Dead Redemption and Red Dead Redemption 2. Once the player has found and killed one of them, it will never appear again in the same save file.
Red Dead Redemption
Wearing the Expert Hunter Outfit while hunting these animals will net the player two of each piece of loot, with the exception of the animal's heart, when skinned. As the components from these legendary animals have great value, this strategy is highly recommended.
In order to encounter singleplayer legendary animals, players are required to be Master Hunter Rank 9.
Red Dead Redemption 2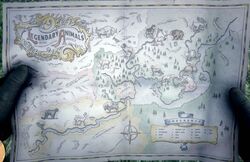 Legendary animals can be encountered in some missions, but will more frequently be located in the wild. Once players enter an area that contains a legendary animal, they will begin receiving a series of clues when using Eagle Eye. The third clue will lead directly to the animal. Legendary animals have the unique trait of an undamagable pelt, giving always high quality pelts. Below is a listing of the animals and their approximate locations.
Trophies/Achievements
Finding and killing all Legendary Animals will net you these trophies/achievements:
| | |
| --- | --- |
| | Study every animal across all states in Story Mode. |
---
| | |
| --- | --- |
| | Skin every species of animal in Story Mode. |
---
| | |
| --- | --- |
| | Complete one of the Collectible strands |
---
| | |
| --- | --- |
| | Attain 100% Completion. |
Related Content
Related Content for Legendary Animals

Wiki Content
External Content
The links above will perform a search for the content that matches this page's name.
Community content is available under
CC-BY-SA
unless otherwise noted.