| | |
| --- | --- |
| | It has been suggested that this article or section should be merged with [[::Locations in Redemption|Locations in Redemption]]. (Discuss) |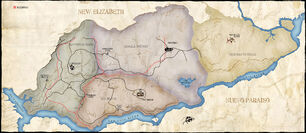 A map of three different territories presented to you, the player, in Red Dead Redemption a section at a time after completion of certain missions. The three different territories are New Austin, modeled after the South-Western states, West Elizabeth, modeled after the Great Plains and western mountains, Nuevo Paraiso, modeled after Mexican terrain. The map is actually outdated as seen in the topright corner.
On the map
Many symbols on the map identify many people, places, or things in the territory. Such symbols are:
Wagon wheel - Stagecoach
Medical bag - Doctor
Bottle - Saloon
Telephone Pole - Telegraph Office (pay bounty)
Train - Train
Card - Gambling table
Green house - Safehouse
Blue house - Vacant or rentable safehouse
Large alpha numerics - Individual by which missions begin
Arrow - Points north
Red Dot - Enemy
Blue dot - Ally or other
Yellow dot - Mission objective
Red or Blue dot with star - Sheriff or deputy
Red or Blue dots with arrows - Indicates above or below the player
Large red circle transparent - Law enforcement awareness
Red skull - Bounty
White skull - Wanted Poster
Red bar to right of map - Amount of Dead Eye
Blue bar to left of map - The horse's remaining stamina
Eye - Individual that witnessed a crime
Round checkerboard - Race end point
Plant - Vegetation that can be harvested and sold
Half a wagon wheel and hat - Stagecoach
Movie camera - Cinema
White well - General store
Hand - Five Finger Fillet
White triangle in black dot - Stairs
White question mark - Stranger task start
Purple circle/question mark- Stranger task
Crescent moon- Nightwatch
Red X- Waypoint
Cowboy Hat w/ Bandana - Gang Hideout
Light blue dot - Random Encounter
Others not yet identified:
Mini map
There is also a mini map at the player's disposal during gameplay. All symbols on the map will also be on the mini map to aid the player without having to pause the game.
Other maps
(Please post any original maps here, these are edited.)
Community content is available under
CC-BY-SA
unless otherwise noted.