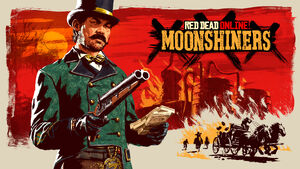 Moonshiner is one of the five Specialist Roles in Red Dead Online.
Description
Moonshiners run underground businesses, illicitly distilling, marketing and selling spirits for profit.[1]
License
The player must meet Maggie Fike at Emerald Ranch, where she will give them the opportunity to buy a moonshining shack for 25 gold-bars.
The player may choose from 5 different shacks located in different states.
Task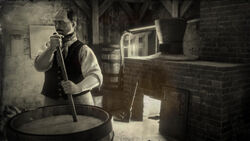 How better to make your fortune than to become a black-market Moonshiner. Establish your own bootlegging business in this new Specialist Role – an ideal fit for players progressing along the Trader path or anyone seeking a property to call their own.
Purchase an unassuming Moonshining Shack, the main floor acting as a front with all the details of an ordinary homestead. The basement, however, is where you'll ultimately get down to business.[2]
Moonshiner Skills
Moonshiner Recipes
There are ten recipes in total, initially seven. Three of which are unlocked after reaching the first three tiers of the Moonshiner role. The last one is a secret recipe that must be found to achieve. Marcel is the moonshine shack's cook and will handle the production and shipment of moonshine. Interacting with him in the shack's basement allows the player to choose recipes and make moonshine.
Name
Ingredients
Agarita Sunrise Moonshine
1x Canned Strawberries, 1x Evergreen Huckleberry, 1x Agarita
Apple Berry Crumb Moonshine
1x Apple, 1x Blackberry, 1x Vanilla Flower
*Berry Cobbler Moonshine
1x Canned Peaches, 1x Raspberry, 1x Peach
Berry Mint Moonshine
1x Canned Strawberries, 1x Blackberry, 1x Wild Mint
Evergreen Moonshine
1x Evergreen Huckleberry, 1x Wintergreen Berry, 1x Ginseng
Poison Poppy's Moonshine
1x Prairie Poppy + 1x Oleander Sage + 1x

Absinthe

*Spiced Island Moonshine
1x Canned Apricots, 1x Currant, Caribbean Rum
Tropical Punch Moonshine
1x Canned Pineapples, 1x Pear, 1x Vanilla Flower
Wild Cider Moonshine
1x Apple, 1x Ginseng, 1x Currant
*Wild Creek Moonshine
1x Wild Mint, 1x Vanilla Flower, 1x Creek Plum
*: Only unlocked upon reaching rank 1, rank 10 and rank 5. (In that order)
Video Walkthrough
Gallery
Trivia
References
↑

In-game Description

↑

Official Site Description