This achievement/trophy is acquired playing Liar's Dice in Single Player and is not to be confused with the Multiplayer achievement/trophy: Compulsive Liar.
| | | |
| --- | --- | --- |
| " | Complete a game of Liar's Dicewithout losing a single die. | " |
| | —In-game description | |
No Dice is a gameplay achievement/trophy in Red Dead Redemption.
Acquisition
An easy way to do this is with 3 people at the table. Normally, they will call each other's bluffs until they hardly have any dice left. Once it is down to one guy left with one die, call his bluff as soon as he calls 2 of any die you do not possess.
Another way to acquire this achievement is to find a table with only one other player. When the choice to bid comes up, bid honestly and the other player will often be forced to call your bluff and will lose a die. Repeat until the other player has been eliminated.
Honesty is usually the best policy. When playing with 3 or more people, start low, only 1 die and play honest. This will force the AI to start calling out higher, often absurdly unlikely numbers or the AI can call their bluff.
Note that the AI will almost never declare a bid spot-on, so being honest will give you a very good chance of winning with no dice lost.
When playing at a table with only one other person (restarts may be needed to find a table with only one player), the A.I may call the bluff almost every time.
Easily done during the Stranger side-mission "Lights, Camera, Action", as the Liar's Dice target is very bad at the game. He is usually alone, but there is a second NPC at the table once in a while. They can both be beaten rather easily, just let them take each other out.
Trivia
The name of the achievement/trophy ("No dice") is a slang phrase used by the speaker to say that something is not possible or isn't going to happen. Appropriately enough, the phrase originated from dice games where it indicated a bad throw of the dice that did not count.
The French name of this achievement is "Tu bluffes, Martoni", which is a clear reference to the French movie La Cité de la Peur.
Videos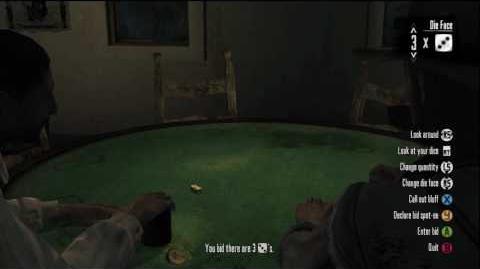 Related Content
Related Content for No Dice

Wiki Content
External Content
The links above will perform a search for the content that matches this page's name.
Community content is available under
CC-BY-SA
unless otherwise noted.