Points of Interest are various locations and individuals that can be found all across the map in Red Dead Redemption 2. The player can be inspect these interesting features and landmarks once they approach the site. Upon inspection, the character will make a unique sketch in their journal, occasionally accompanied by a brief text, and the location will be marked on the map.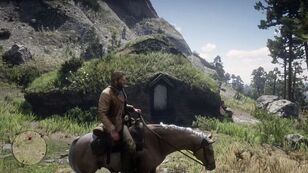 Locations
Trivia
There are a total of 49 points of interest in the game.
The player is required to have found at least one in order to achieve the 100% completion trophy.