Points of Interest are various locations and individuals that can be found all across the map in Red Dead Redemption 2. Points of Interest range from unique buildings to Easter Eggs, and some even reference previous Red Dead titles.
When the player finds a Point of Interest, the option to inspect it will become available. This zooms in on the location, and is followed by the protagonist opening their journal and drawing a sketch of the Point of Interest. The drawing is usually accompanied by a brief text; once the journal is closed, the location is then marked on the map with a similar drawing.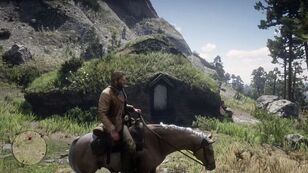 Locations
Trivia
Community content is available under
CC-BY-SA
unless otherwise noted.