Red Dead Revolver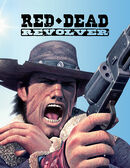 Red Dead Revolver is an arcade-style western third-person shooter video game published by Rockstar Games and developed by Rockstar San Diego. It was released in North America on May 4, 2004 for the PlayStation 2 and Xbox, In PAL region on June 11, 2004, and on May 26, 2005 in Japan. On December 19, 2012, a "PS2 Classics" version was added to the PlayStation Store as a downloadable title for PS3.

News
It's been almost two and a half years since I first joined this wiki, time really flies and with it comes life. I didn't start editing here because I felt forced to do it, no, I always contrivbuted when and if I felt like it. Contributing can at tim…
"The many miles we walked
The many things we learned
The building of a shrine
Only just to burn
May the wind be at your back
Good fortune touch your hand
May the cards lay out a straight
All from your command
That's the way it is
That's the way it is"
While i…
After one year and 275 days of dedicating myself to this wiki, I must resign. I've enjoyed my time here and it's certainly taught me some lessons in how to be mature and how to be a better person.
I am not just resigning from this wiki, but from all …
See more >
More news...
Community content is available under
CC-BY-SA
unless otherwise noted.