| | | |
| --- | --- | --- |
| " | Sometimes it takes a posse to take on a gang. Form posses with friends to take on gang hideouts and ambient challenges within Free Roam, or have your posse leader bring you into competitive matches at any time. Posses can hear each other talk via voice chat, no matter how far apart they may be. | " |
| | —Red Dead Redemption website | |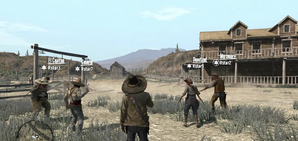 A Posse is a feature available in the multiplayer mode of Red Dead Redemption.
Description
A posse can be formed while playing online with other players. Posses are typically formed via requests to participants in the same Free Roam session, but requests can also be sent during other multiplayer game modes. Up to 8 players can participate in a Posse.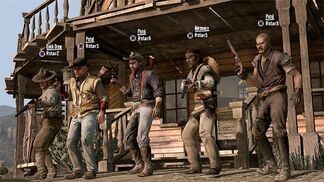 When voice chat is enabled, the player can communicate with their fellow posse members regardless of distance on the game map (as opposed to non-posse members who are only heard when nearby).

Players can also go hunting together in specially appointed areas to fend off waves of animals. Apart from hunting, players can also track down Plants and conquer gang hideouts together.
Posses only act as a temporary 'party' or 'group'. The party members disband when logging off multiplayer and must re-join or create their own posse upon returning. Naming of the posse is unavailable. Players can all manually select the same title from the many preset choices once unlocked.
Posse Leader
The Posse Leader has control of certain things that govern what a posse is doing. For instance, the posse leader is able to queue the posse up for competitive games, set waypoints which show up on all posse members' maps to mark the next destination, and recruit players to join their posse. When a posse leader changes free roam sessions all posse members will go with him. Other players in the posse can also automatically teleport to the posse leader's position from anywhere on the map when they join.
Communication between Posse members
Most posses communicate using headsets, however some posses also use Windows Live Messenger (MSN) as well. This is helpful for members who do not have headsets or do not like using them.
To use a bluetooth headset:
Go to: Settings --> Accessory Settings --> Manage Bluetooth Devices --> Register New Device
Put your Bluetooth in pairing mode
Once paired, go to: --> Accessory Settings --> Audio Device Settings
Go down to Input Device
Click X
Change from "Do Not Use" to your Bluetooth Device
Click "OK"
Achievements
Forming a complete posse will gain the player this achievement:
| | |
| --- | --- |
| | Create a posse with the maximum amount of players. |
Community content is available under
CC-BY-SA
unless otherwise noted.