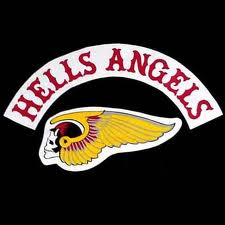 "Hell's Angels"
is a
Red Dead Redemption
posse.
About the posse
Basically we are heartless,we kill anyone or anything that stands in our way but we protect the weak,I mean c'mon we're Hell's Angels(Totally "AWESOME" Badasses).If you like to just f**k around,killing random people/players(Not NPC's),becoming a public enemy or for the sake of just having fun(We're the perfect posse for you).We will also have activities(we will send you a PM).We have three main headquarters which is Nekoti Rock,Tumbleweed and El Presidio(Fort).You can fall back there if you're in trouble or overpowered(Sometimes you can also find us at Bearclaw Camp).It's either you ride with us or die :D
Rules
Never kill/betray another member especially a leader.
Never kill another member's mount.
You must atleast have a headset/mic,so that you/members can communicate among each other.
We dont accept XBL gamers.(Sorry)
You must be atleast be rank/level 20 or above.(The higher the better)
Willing to speak english.
Must be the age of 13 and above.
Joining the posse
Just add me(PSN:LeonDeDon)or send an e-mail/application to(leondgordon@gmailcom).Feel free to send me a message(on the PS3).Always follow the rules above this section.Your application should be in the following order(Template for e-mails):
PSN:
Nickname:
Timezone/w Country:
How Often Do You Play RDR MP?:
Your Previous Posses:
Why Do You Choose To Join/Ride With Us:
How Can You Contribute To A Posse?:
Rank/Level:
About Yourself:
Just copy and paste,as simple as that lol :) We also have to see if you'll be active/online for atleast a week and if you're active for atleast 4 days,we guarantee you will be accepted into the posse :)
Members
Leader
Other members
Jason
A-923198321
Ultrix
Trackstrakid
Hanoko
Spike
burningskull96
Kikar
Gotbeer
piNGer
External links
Community content is available under
CC-BY-SA
unless otherwise noted.