Posse warning: This posse has been selected as a inactive posse due to not being edited in the last 3 months and/or has an insufficient amount of members. If you wish to keep this posse, remove this template. Otherwise, this posse will be deleted.

The Red Dead Wiki crew (v|e)

Remember to check what links here and the page history before deleting.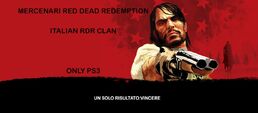 "Mercenari ITA" is a NON ACTIVE Red Dead RedemptionConsole posse on PLAYSTATION3.
Nata nell' agosto 2010, raccoglie al suo interno alcuni tra i migliori giocatori italiani di red dead redemption, capaci di rapporti Uccisioni/Morti molto alti, e un'attività di camperaggio in sparatorie bassissima. Uniti come fratelli i mercenari superano ogni sfida grazie alla loro abilità e destrezza.
Clan sciolto il 26 marzo 2011.
Born in 'August 2010, contains within it some of the best Italian players of Red Dead redemption, capable of reporting Kills / Deaths very high, without "camping". United as brothers, the mercenaries pass each challenge thanks to their game skills.
The clan died 26/03/2011.
Informazioni sul clan-About the posse
Clan Italiano di Red Dead Redemption con giocatori di altissimo livello e performance elevate, no campers durante le sparatorie. E' il clan italiano che conta più vittorie in clan war, con più avversari diversi sfidati.
Italian Clan of Red Dead Redemption with skilled and pro Players and an high level of performances, no campers during the gangs shootouts.
It is the italian posse who got the best number of victories in clan war versus a lot of different posses.
Joining the posse-Contatta il Clan
Per Sfidarci o saperne di più sul nostro clan visitate il nostro forum www.mercenarirdr.forumfree.it
If you want to challenge us, just visit our forums and leave a message in a new topic, or send a message with PSN to "LupoLucio89"
www.mercenarirdr.forumfree.it
-Boss della banda-Leaders
Vice e Ufficiali-Officers
Gort89
Vispof
LupoLucio89
Membri-Members
Magno
TheWarriorsx91
Barbi2009
MadMaax
XDrachen
Pleronz89
Corvo_Bianco
InserireNome
Rosanero-The-Kid
Gregoriovic
Diegopazzo
Skateboardp
El Muzzafer
Link esterni-External links
Community content is available under
CC-BY-SA
unless otherwise noted.