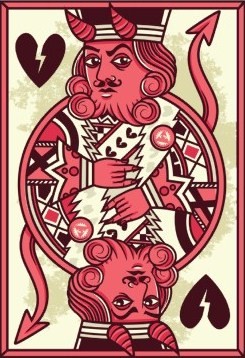 "The Devil's Hand"
is a
Red Dead Redemption
posse.
About the posse
"The good book tell's us, Wicked men are put on this earth by the devil's hand."
- Rev Tomas Rose, Blackwater preacher.
"Yeah i saw him try his luck, he loss it all to the devil's hand."
- Jimmy "Three Jacks" Greenwood, Armadillo gambler.
We are "The Devils Hand", the worst the west has to offer, a gang of gambling outcasts who are feared and unloved. We'll take your money and your life. Stacking the deck in our favour, we'll cheat and lie to get what we want. Killing is not a problem, we like our dollar's bloodstained anyway. As highly experienced poker players, we can be found wherever men gamble with their money (or their live's) and we'll always win... even if we have to draw guns not cards. Never bet against the devil's hand, we collect our debt's in blood.
Joining the posse
All you have to do is send a friend request on PSN. There is just one test, have a fist fight with Bone__idol on top of a high building/tower/cliff of his choosing and knock him to his death, if you can send a man to hell with your hands, we'll have no problems what you can do with a gun. Its harder than it sounds.
When you send a friend request tell us why you want to join, and if your M/F (King/Queen Jack/Lady). But you must have a Mic and be over 18 please. Oh yeah... No Lawmen, Federales or American Army. Let's keep things uncivil shall we .
Members
Gang Leader
King of Brutal Hearts -- Bone__idol
Snr Members
King of Bloody Clubs -- The-fixer-1
King of Hateful Diamonds -- Unpronounceable9
King of ???? Spades -- TBA
Members
Jack of ???? Hearts -- TBA
Jack of ???? Clubs -- TBA
Jack of ???? Diamonds -- TBA
Jack of ???? Spades -- TBA
-- Special thank's to Angry-_-man for creating this posse page. --
we wish to welcome back Angry-_-man who is now called Bone__idol
External links
Community content is available under
CC-BY-SA
unless otherwise noted.