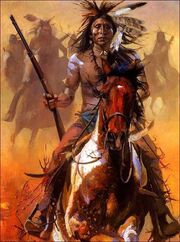 Apache Warriors Clan
is a
Red Dead Redemption
Clan exclusively on Playstation 3.
About the posse
The Apache Warriors Clan was created by CHIEF_GRAY_WOLF, CHIEF_WAR_BEAR, CHIEF_CHEVEYO, & CHIEF_LADY_HAWK. We are exclusive to PS3 and are growing rapidly. We are always actively seeking new recruits. We are a Native American Themed clan that mostly plays in Hardcore Free Roam but we will play in Normal Free Roam if needed. We are a friendly clan who are here to have fun, share some good laughs and to kick some ass. We will take part in Clan Battles, Wars, Allies, Some Roleplay and Searches for players who offended us that we are now out to scalp! Beware, the Apaches are out there on PSN Red Dead Redemption Free Roam. This Is Our Land and We Want IT BACK!!!!!.
Joining the posse
First Visit our website at http://www.wix.com/chiefapache/apachetribe It has all the information about the clan, it's rules, and how to join.
Also add CHIEF_CHEVEYO, CHIEF_GRAY_WOLF or CHIEF_WAR_BEAR as a friend on PSN and state in the message box of the friend request that you are interested in joining our clan.
You can also send us a private message via our website "Contact Us" tab. We will respond as soon as we can!
Tribe (Clan) Members
Clan Chiefs (Leaders)
CHIEF_GRAY_WOLF
CHIEF_WAR_BEAR
CHIEF_LADY_HAWK
CHIEF_CHEVEYO
CHIEF_STEPENWOLF
Apache Warriors (Clan Members) *as of 6/3/12
APACHE_WAR_TIGER
Apache_War_Wolf
APACHE_GERONIMO_
APACHE_Nekoti
APACHE_so_fon
APACHE_Kaylee
Apache_Grenkoi
External links
Community content is available under
CC-BY-SA
unless otherwise noted.