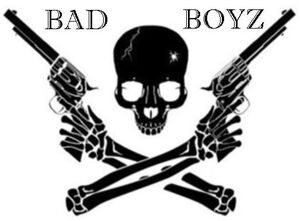 BADBOYZ is a Red Dead Redemption posse.
About the posse
BADBOYZ is a Playstation Network Red Dead Redemption clan. We stick together and nobody gets in our way. And we let nobody mess with us. We do anything and everything there is on RDR. So don't fuck with us. OUR territory is Thieves Landing, that area is strictly prohibited to non-BADBOYZ members. If we see any other posses on the map we WILL shit on you so stay the fuck outta our way. Also we don't cheat or hang out with cheaters. MOD is for
To join the posse you must:
1) Have a mic
2) Know one of our members
3) Be a good player (Casual killers are NOT tolerated)
4) Roll with us for 2 weeks
5) Be accepted by all memebers of the clan
6) Be prepared to help fellow clan members
Oh yeah, and don't expect us to be like the Mexican-Locas. We don't recruit anybody that asks.
Original BADBOYZ
President - BADBOYZ-KrazyK
Vice President - BADBOYZ-ROLLITUP
Captain-BADBOYZ-JAY86
Career Criminals
BADBOYZ-D-DAY
BADBOYZ-RNX2
BADBOYZ-BADMAN
BADBOYZ-KRONiK
BADBOYZ-ANU
BADBOYZ-DJ-MAE
Soldierz
BADBOYZ-ROSEWOOD
BADBOYZ-AMITYVIL
BADBOYZ-PuTiO
BADBOYZ-DOGWOOD
BADBOYZ-RABBIT
BADBOYZ-SUKMEOFF
BADBOYZ-Snipers
BADBOYZ-BEEECHO
BADBOYZ-Natas666
BADBOYZ-TEQUILA
BADBOYZ-Flaco13
BADBOYZ-DredKUSH
ORIGINAL BADGIRLZ
BADGIRLZ President - BADGIRLZ-Bec
BADGIRLZ Vice President - ????
BADGIRLZ
BADGIRLZ-dfrog42
BADGIRLZ-Krista
BADGIRLZ-SLW
BADGIRLZ-Mamma
BADGIRLZ-Guera
Retired
BADBOYZ-HITMAN
BADBOYZ-MYSTIC
BADBOYZgoatRoper
BADGIRLZ-LIZZY
BADBOYZ-69yerMOM
BADBOYZ-TEENER
BADBOYZ-Foxy
BADBOYZ-Greenman
BADBOYZ-CRIMINAL
BADGIRLZ-t0aSt6
BADGIRLZ-Buku
BADBOYZ-4L1FE
BADBOYZ-KrazyBoy
BADGIRLZ-SueperH
BADBOYZ-25TOLIFE
BADGIRLZ-Ludo
BADGIRLZ-Millie
BADBOYZ-Joe29
BADGIRLZ-JONAH
BADBOYZ-SWOON
ALLIES
the Outtlaws
BURN LIST
BADBOYZ-LKrico - Posse hoppin bitcho
BADBOYZ-WeedsMKe - 2 faced bitcho
BADBOYZ-2WickedH - 2 faced bitcho
BADBOYZ-GUNBLAZE - An annoying little cunt
BADBOYZ-PITBULL - Another annoying little cunt
BADBOYZ-GUNBLAZE- Annoying little cunt
External links
http://www.freetext2speech.com/hear/4839 http://www.freetext2speech.com/hear/4839 http://www.badboy fights.com/hear/6721 http://www.freetext2speech.com/hear/6421
Community content is available under
CC-BY-SA
unless otherwise noted.