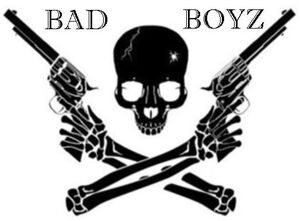 BADBOYZ is a Red Dead Redemption posse.
About the posse
BADBOYZ is a Playstation Network Red Dead Redemption clan. We stick together and let nobody mess with us. We do everything on RDR. Our territory is Thieves Landing, that area is strictly prohibited to non-BADBOYZ members. if we see other posses in the map we will most likely shit on you so might as well get out of the way. Also we don't cheat or play with cheaters, all that Mod controls is for the unskilled.
Joining the posse
To join the posse you must:
1) Have a mic
2) Know one of our members
3) Be a good player (Casual killers are not tolerated)
4) Be accepted by everybody in the clan.
5) Be prepared to help fellow posse members
Oh, and don't expect us to be like the Mexican_Locas we don't recruit anybody that asks.
Original BADBOYZ
1) BADBOYZ-KrazyK
2) BADBOYZ-ROLLITUP
Soldierz
1) BADBOYZ-D-DAY
2) BADBOYZ-DJ-MAE
4) BADBOYZ-JAY86
5) BADBOYZ-RNX2
6) BADBOYZ-Greenman
7) BADBOYZ-4L1FE
8) BADBOYZ-SWOON
9) BADBOYZ-KRONiK
10) BADBOYZ-ROSEWOOD
11) BADBOYZ-DredKUSH
12) BADBOYZ-AMITYVIL
13) BADBOYZ-ANU
14) BADBOYZ-PuTiO
16) BADBOYZ-DOGWOOD
17) BADBOYZ-RABBIT
18) BADBOYZ-DEMONC
ORIGINAL BADGIRLZ
1) BADGIRLZ-bec
2) BADGIRLZ-JONAH
BADGIRLZ
1) BADGIRLZ-dfrog42
2) BADGIRLZ-Lizzy
3) BADGIRLZ-Millie
4) BADGIRLZ-Krista
5) BADGIRLZ-t0aSt6
6) BADGIRLZ-LuDo
7) BADGIRLZ-SLW
Allies
The Outtlaws
BURN LIST
(the list you dont wanna be on)
External links
http://www.freetext2speech.com/hear/4839