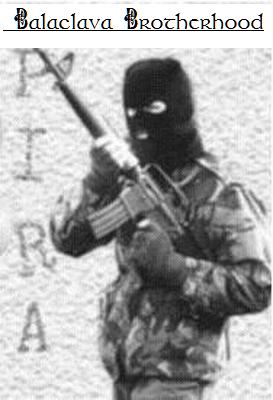 Balaclava Brotherhood is a Red Dead Redemption posse.
About the posse
Our posse is a selection of the most Elite provos from Clonoe and other fenian areas. We are a stricly republican posse. We view the IRA as not terrorists. We want a united 32 county Ireland. We support Celtic F.C. We are anti-unionist and anti-PS3. War Cry: TIOCFAIDH AR LA! Our Posse is often mistaken as the PIRA but we are their special operations squad. Not the actual Provisional Irish Republican Army or Óglaigh na hÉireann
Joining the posse
To join this posse you must swear allegiance to Éire and the Republican cause. You must also bring three orange mens' scalps to your initiation ceremony
Members
Leaders
Balaclava Pat
Balaclava Bobby
Other members
Balaclava Tam
Balaclava Jim
Balaclava Joe
Community content is available under
CC-BY-SA
unless otherwise noted.