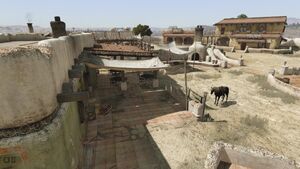 Band of burritos is a Red Dead Redemption posse.
About the posse
This posse is all about fun and group coordination. And what I mean in terms of coordination is that we work as a team. To join you must be good at listening to the leaders and be a good shot. we do just about anything: gang hideouts, hunting, gang wars, etc. You cannot fight with other members of the posse, shoot posse members horses, or leave the main group unless ordered to do so by deathstar5566 or anyone else who is in command/second in command. We ask that you be polite to posse members and follow orders. Failure to do so will have consequences. We are not trying to be mean, but the posses we have dealt with in the past are disorganized and therefore quite ineffcient. We also ask that you have the Liars and cheats and Undead nightmare DLC packs. Please contact me and i hope to have requests to join!
Joining the posse
To join, contact deathstar5566 on the psn. Again, you must be good at listening. This posse is organized and coordinated. You may be asked to show your skills to prove your worth. We are based out of Armadillo or Fort Mercer for our American expeditions, Chuparosa and Torquemada, for our Mexico expeditions. If you have a headset, use it. Its ok if you dont. Also, please tell me when you join if you heard about this posse over Red dead wiki.
Members
Leaders
deathstar5566
elfwithnoname
Other members
pending
External links
Community content is available under
CC-BY-SA
unless otherwise noted.