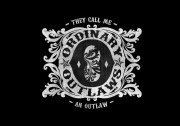 The OuttLaws of Red Dead Redemption is a Red Dead Redemption posse.
About the posse
The OuttLaws are one of the more organized clans of Red Dead Redemption for the PS3 console. The OuttLaws are indeed a gang and not a posse. We are 100% against the law and will do anything to break it and anyone in our way will be taken out. We are large in number but do prefer to take on enemies one on one in a fair game of skill. We do missions such as gang hideouts, gaining and maintaining a bounty, robbing people of their gang hideouts, and just shooting at lawmen and the mexican army. We are not only in free roam like other clans, you can find us in gang shootouts dominating and having the opposing side leave or you'll catch us in a free for all. We have earned the title of being Red Dead's most infamous gang as we're hated by other players,clans, and npcs. Everyone in the gang are very loyal and skilled at shooting. OuttLaw War loves one on ones so if u whant a shot playing him just add him.Now we evolve and were also known as TallTree Terminators.We now have a seperate crew called OuttLawJr for people 13 or under.
Joining the posse
-It does not matter what level you're at we'll help build you to a near perfect player.
-You must not glitch or hack.
-You must not kill other players nor their mount.
-You must at all times be LOYAL to everyone in the gang.
-You must be able to fend for yourself at times.
-You must make an OuttLaw account and make it the right way.
Members
Generals
Outtlaw_Jesse//OuttLaw_Preacher// OuttLaw_Bradshaw//OuttLaw_Lion// OuttLaw_Bandit//OuttLaw_TallTree//OuttLaw_WAR
Other members
OuttLaw_Bandit
OuttLaw_Dang
OuttLaw_GuNNa
OuttLaw_Hellcat
OuttLaw_Newb
OuttLaw_Scarface
OuttLaw_ToaSt1
OuttLaw_Sentenza
OuttLawJr_Tiger
OuttLaw_Scar
OuttLaw_NeWyOrK
OuttLaw_Babe
OuttLaw_Def-Row
OuttLawJr_LG
OuttLaw_WarTime
OuttLaw_BadGirl
OuttLaw_Robins
OuttLawJr_H-Town
OuttLaw_Sassy1
OuttLaw_Gangster
OuttLaw_MadDog
OuttLaw_Kaz
OuttLawJr_Daisy
Allies
BadBoyz
Enemies
External links