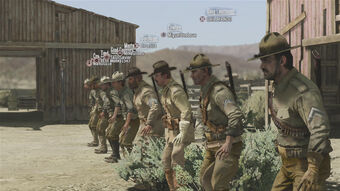 USMC is a Red Dead Redemption posse.
About the posse
Two years ago, a band of brothers formed a group that would take back the west from the evil that inhabits it. We are the USMC. Dressing as the American Army, these "outlaws" travel from the Northern Borders down to Mexico taking out anyone who crosses their path. Join now, and be spared.
Joining the posse
1. Must be above level 20. 2. Must follow instructions and respect leaders. 3. Will be tested on many things such as: Physical Training, Target Practice, Meelee and Combat Training, andmuch more. Contact scarfaceg36c or fanozzy on XBOX 360 for recruitment into the posse.
Leaders
Other members
D33PS33F1SH3R47
x TU RT LE fx
Dirtykillaman99
PacoSanchez1113
Nutcase482
External links
Community content is available under
CC-BY-SA
unless otherwise noted.