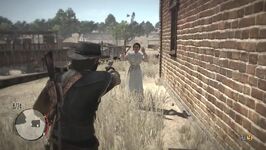 Robbery was a common occurrence in the Wild West, and is thus a major gameplay element in the Redemption saga.
Red Dead Redemption
Robbing Individuals
The player can aim a weapon at an NPC and demand money. Doing so will result in a loss of Honor, unless wearing the Bandana. Simply lock onto the victim and press either "Triangle" or "Y" to attempt to rob them. Aiming at the victim for too long causes them to start running. When attempting to rob certain NPCs, the player may be fired upon by the NPC they're robbing, and/or by other NPCs nearby, who may try to aid the person being robbed. If the player robs someone where there are no eyewitnesses or Law Enforcement, then the player will not incur a bounty. If the player's Honor is high or low enough, witnesses won't report this act.
Red Dead Redemption 2
Robbing Individuals
Individuals can be robbed by targeting them and selecting the "Rob" option, which should be backed up by aiming a weapon at the individual. This may provoke a hostile response from the target or, in crowded areas, attract law enforcement.
Homesteads
Stagecoaches
Stagecoaches and wagons can be robbed by incapacitating the drivers and guards, either by shooting them or leaping onto the moving stagecoach from horseback and throwing the drivers off. Some stagecoaches have a lockbox on the exterior that can be broken open for random loot, and the vehicle can usually be taken to a Wagon Fence and sold provided there are no witnesses or pursuing law enforcement.
Trains
Banks
Side Businesses
In most towns, some store owners have an illegal side business which can be robbed without causing a loss of Honor. In most cases, players can conduct the robbery and not alert the law in the process, but any violence committed will lower their Honor and draw the attention of witnesses or lawmen. In order to rob side businesses, the player must first find a lead about them, then enter the shop, aim a weapon at the proprietor, and choose to rob the side business. During the operation, the player can also rob the cash register, which will incur a small loss of Honor but it doesn't alert any witnesses like it usually would.
Trivia
Red Dead Redemption
While wearing the Bureau Uniform, the player is unable to rob any NPCs.
Aiming at an NPC with the Lasso will trigger the prompt.
If the player kills their target, their Honor will decrease by a further 50 points, but their Fame will increase slightly.
Community content is available under
CC-BY-SA
unless otherwise noted.