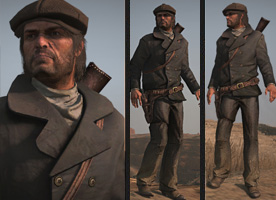 The Savvy Merchant is an outfit featured in Red Dead Redemption.
Description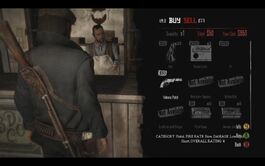 The Savvy Merchant outfit dresses Marston in a navy blue pea coat with a pair of black pants similar to those worn with the Elegant Suit. Marston's cowboy hat is replaced with a taupe beret.
The outfit decreases item costs found in gunsmith stores by half the original price. The discount also stacks with the high honor discount as well as any other discounts bonuses found in the game. The outfit's bonuses don't influence the value of the items the player themselves sells, nor does it effect any other shop aside from gunsmiths.
Before the release of Red Dead Redemption, the Savvy Merchant outfit was one of three outfits proposed by Rockstar Games to be included as a pre-order bonus at GameStop, but it was beaten by the Deadly Assassin Outfit. As such it was originally unobtainable in the game.
Acquisition
The Savvy Merchant outfit's discovery is only unlocked by downloading the free Hunting and Trading Outfits DLC for Red Dead Redemption, which adds the quests for both this outfit and the Expert Hunter Outfit. The DLC is also included in copies for the game's Game of the Year edition.
Scraps
Five scraps must be obtained by completing challenges before the outfit will be unlocked. The scraps can be obtained in any order.
Tips & tricks
Clearing the Scraps
Usage of the outfit
If the player has the Liars & Cheats DLC pack, the Explosive Rifle is $10,000. It is recommended to use this outfit to reduce the price to $5,000, or, with honor at Peacemaker, only $2,500. As well as making its ammo only $3 each.
Trivia
An unfinished and untested variation of the Hunting and Trading Outfits DLC was released for the game's PlayStation 3 version on September 1st 2010; the version was reported to be glitched and bugged. Rockstar Games released a finished version on October 12th, and recommended players to delete the original version and download the newer one.
A glitch may occur with this outfit, in which the first cutscene of story missions won't play.
Gallery
Related Content
Related Content for Savvy Merchant Outfit

Wiki Content
External Content
The links above will perform a search for the content that matches this page's name.
Community content is available under
CC-BY-SA
unless otherwise noted.