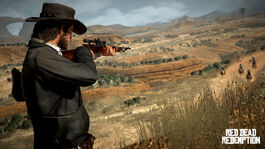 Scoped rifles, also known as sniper rifles, are a weapon class featured in Red Dead Redemption, Red Dead Redemption 2, and Red Dead Online.
A scoped weapon would be a rare item for any civilian to own, especially in the West, where general purpose weapons ruled the day.
Characteristics
Typically, Scoped rifles are long range weapons with low fire and reload rates. They are equipped with a scope, which can be activated using L2 or LT. Because of these characteristics, scoped rifles excel at big game hunting, with some being able to drop grizzly bears in one shot.
However, they are mediocre in a typical medium range engagement due to their low rate of fire, poor peripheral vision, and lack of auto-aim. The high zoom of the scope also makes it unwieldy to use in close quarters combat. Scoped rifles use Sniper Rifle Ammo.
There is a quicker use of the scoped rifles: use the R2/RT button to fire an execution shot when close to an enemy or behind cover. Using the R2/RT button without aiming will result in the gun being fired blindly without looking through the scope, at the cost of accuracy.
List of Scoped Rifles
Additionally scopes can be purchased from all Gunsmiths for the following weapons:
Trophies/Achievements
| | |
| --- | --- |
| | Get 250 headshots in any game mode. |
---
| | |
| --- | --- |
| | Get a headshot while in Expert Mode in Singleplayer. |
---
| | |
| --- | --- |
| | Kill 500 enemies with any rifle, repeater, or shotgun |
---
| | |
| --- | --- |
| | Purchase a rare weapon from a gunsmith. |
---
| | |
| --- | --- |
| | Attain 100% in the Single Player Game Completion stat. |
Related content
Related Content for Scoped rifles

Wiki Content
External Content
The links above will perform a search for the content that matches this page's name.