For the game mode in Red Dead Redemption: Gunslingers, see Shootouts.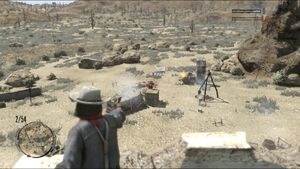 Shootout is a Free For All (FFA) game mode in the multiplayer of Red Dead Redemption. It can be played with up to sixteen players, and takes place in a small area of the game map centered around a settlement. The aim of the game mode is to kill as many opponents as possible within the time limit. The team based equivalent is described on the Gang Shootout page.
Description
At the beginning of the match, there is a standoff where all players stand in a circle opposite each other. The last player standing wins the standoff and gains additional XP (unless time runs out in which case the standoff expires with no winner). Kills within the standoff count towards the kill total for the match and towards any kill streak challenges.
A match lasts for ten minutes. New players can join a match already in progress. If multiple players are tied for total kills at the end of the time limit, the match will enter sudden death where the first player to break the tie wins.
All players start with the same set of weapons, which varies with each map location. Additional weapons are available in chests throughout the map. Ammo chests and dead-eye refills are also available.
When a player gains a kill, they gain experience points. The top player's character is shown in the closing screen, taunting the other players.
Modes
Several playlists are available for Shootouts depending on the player's preferences, rank, and DLCs. Some modes require the player to reach a particular rank before being unlocked.
Normal - Normal or expert targeting mode (based on individual player preference settings).
Hardcore - Expert targeting mode only.
Veteran - Expert targeting mode and reduced radar details. Only available once the player passes into Legend.
Locations
Several Shootout locations are available and the game playlist will rotate between locations, alternating with other game modes depending on the playlist selected. The following locations are available in the main game:
The following locations are added in the Legends and Killers Pack DLC:
The following locations are added in the Myths and Mavericks Pack DLC:
Multiplayer Challenges
During a Shootout, some Stat Challenges, most Weapon Challenges, and some PVP challenges can be contributed to or completed.
See also
Achievements/Trophies
The player can acquire the following Trophies/Achievements by participating in Shootout games:
| | |
| --- | --- |
| | Kill a Rockstar or someone with this achievement in a public multiplayer match. |
---
Bronze

Kill 5 players via headshot in a single Shootout or Gang Shootout.
---
Bronze

Get 3 kills with throwing knives in a single competitive match.
---
Bronze

Kill 3 or more players in a standoff or showdown.
Community content is available under
CC-BY-SA
unless otherwise noted.