The First Shall Be the Last
is a mission in
Red Dead Redemption 2
.
Mission overview
Following a tip-off on Sean's whereabouts, Arthur, Trelawny, Javier and Charles track Ike Skelding's bounty hunters up the Upper Montana River and attempt to rescue Sean.
Story
To start this quest, the player must go to Javier, just north of Blackwater. Arthur learns that Sean will be transported to a federal prison, and a plan is created to intercept them in transit to save him. The player will follow Josiah and Javier on horseback, and they'll see a boat, where Sean is. They will proceed to kill Skelding's bounty hunters and save Sean. When Arthur gets back to camp that night, the gang will be having a party to celebrate Sean's return.
Gold Medal Objectives
Silently kill the bounty hunters by the river with Javier.
Shoot the rope to free Sean.
Get 10 headshots.
Complete the mission without taking any health items.
Deaths
Several bounty hunters: Killed by Arthur, Javier, and Charles in order to rescue Sean.
Video walkthrough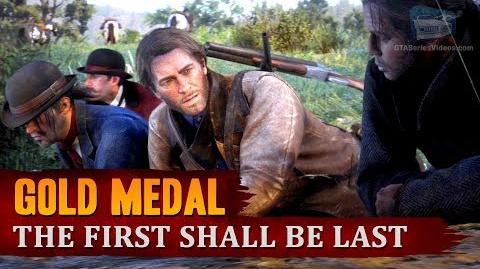 Trivia
Notes
Do not waste any time in looting everything and anything from the Bounty Hunter's camp when the mission ends. You will soon receive a WANTED status, prompting several Lawmen to appear and investigate. Instead it is adviced to loot the bodies and the camp right before releasing Sean off the rope.
Community content is available under
CC-BY-SA
unless otherwise noted.