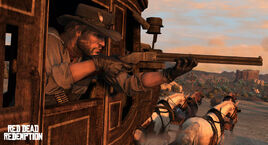 Players can use several modes of transport in order to get Marston from place to place in Red Dead Redemption's game world.
Fast Travel
Fast Travel is a game mechanic that allows the player to skip from one section of the map to another (following a brief loading screen). There are three fast travel options in single player, which are only available when not engaged in a story mission:
Camps - Allows fast travel from a wilderness location to a locality or waypoint.
Stagecoaches - Allows fast travel (via the "skip to destination" function) from a locality's stagecoach stop to another locality or waypoint.
In each case, game time is advanced based on the distance traveled. In other words, a trip across the map may take the player from day to night. This should be factored in if traveling to a destination to perform a time-limited action such as Nightwatch or visiting a General Store.
In Multiplayer there is only one readily-available form of fast travel, which are the Transportation Markers located at nearly every settlement. Another option appears only in specific circumstances – the player is given the option to jump to the posse leader's location when joining a posse or to jump to the location of a newly-started Land Grab game.
Achievements and Trophies
There are five Trophies/Achievements that directly involve using transport. These do not include using methods of transport to get to certain locations in order to obtain the Achievement/Trophy.
5 gamerscore

Bronze bronze
---
10 gamerscore

Bronze bronze
---
---
---