Howdy, partner. It seems that the quality of the images used on this page ain't quite what we expected.
You could definitely help out the wiki by uploading some.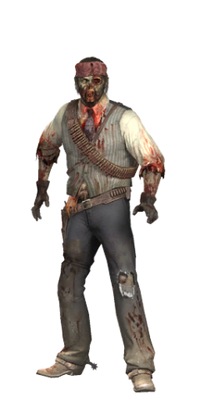 "
Ggggrrraarggh.
"
outfit available for Marston in the Undead Nightmare expansion pack for Red Dead Redemption.
Description
The Undead Cowboy outfit appears to be the bloodstained remnant undergarments of the Elegant Suit, minus Marston's hat and dark suit jacket, along with a ragged red headband, similar to the one John sports in promotional artworks for Undead Nightmare. It also features a bandolier over Marston's shoulder.
It replaces Marston's standard Cowboy Outfit after the completion of Undead Nightmare's story mode. Similar to its counterpart, the Undead Cowboy outfit offers no in-game bonuses and benefits.
It is one of the only three outfits available to undead Marston after the endgame, alongside the renamed Army of the Undead and Legend of the Undead outfits.
Acquisition
The Undead Cowboy outfit is unlocked following the mission "On A Pale Horse" and the completion of the story mode of Undead Nightmare.
Trivia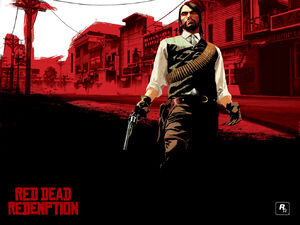 In the main boxart of Red Dead Redemption and several promotional artworks, John wears what appears to be a clean version of the Undead Cowboy outfit.
Several trailers for Undead Nightmare featured an undead Marston with what appears to be the Reyes' Rebels outfit instead.
The Undead Cowboy Outfit is the only outfit to feature the bandolier once the main story has been completed. 
A multiplayer skin based on an undead Marston wearing this outfit is available in Redemption's multiplayer mode under the name Zombie Marston.
When John becomes an Undead he is less resistant to:

Retcher's Explosions.
Explosive Rifle's Explosion.
Gallery
Related Content
Community content is available under
CC-BY-SA
unless otherwise noted.