I want to create a Red Dead Redemption posse for XBOX 360. It will consist of gamers who are skilled with the weapons of Red Dead. We will mainly meet and play on weekends usally every week. Our main objective is too lock down towns and strongholds aginst other players or NPC gangs and lawmen. We will alter between weeks if we will kill or help lawmen and NPCs to keep our game skills and flow fresh and different every week. My gamertag is FUR SURE DUDE and I will accept and let you join the posse as long as you go hard and fair.
-we will accept all invites
-no tryout but if you suck we will ask you to kindly leave
-no skill level required. just a basic feel to how online Red Dead plays
-please get your friends to join. The more the merrier
-first to join will be automaticly the Captain of the posse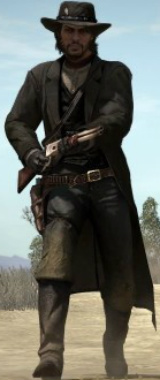 thanks guys, Fursuredude (talk) 03:06, December 16, 2012 (UTC)Andy
Community content is available under
CC-BY-SA
unless otherwise noted.