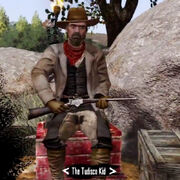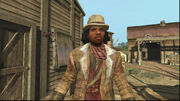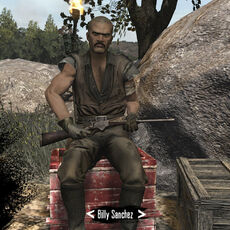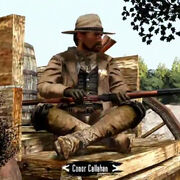 Hi, I´m Gunman_for_real! I am a big fan of Red Dead Redemption, and that´s why I joined the wiki. I particularly like the character Connor Callahan, so I´ve included him a lot in my stories. I have a posse called
Armadillo Lawmen
, it´s leader´s PSN account is Grizzley299, and mine is Gguido_99. I have a few edits, but I´ll get some through the year. I have both Red Dead Redemption, (RDR and RDRUN). While playing RDRUN in multiplayer, I usually go hunting (one of the best things in RDR), bears and cougars. Then I play undead overrun. This picture in the right side is about The Tudisco Kid, a great guy too.
A thing that I don´t like about Red Dead Redemption is.. NOTHING, perfect game for me. I used to write stories about The Hanging Rock Gang, a gang that included Connor Callahan, Dr. Lane Davis, and Billy Sanchez, but now I write about individuals, The Tudisco Kid, Landon Ricketts, Kyle McGinty, Jack Marston etc. The photo of John Marston here remembers me about when I was normal John Marston and wasn`t rotten and making those undead sounds, I´ll probably play the storyline again, like I did with RDR.
In my opinion it would be great that there were trains in multiplayer, so much fun, (if the train didn´t stop when you fire a shot). Anyway, contact me in my PSN account if you want to match with me.
Golden Weapons I´ve earned
Schofield Revolver
Springfield rifle (my favourite one)
Double action Revolver
Repeater Carbine
Winchester Repeater
Semi Automatic Pistol
Road to LeMat Revolver
Community content is available under
CC-BY-SA
unless otherwise noted.