"You do not understand. Frederick is a soldier. He was a general in the Franco-Prussian War when he was twenty-five. He was a national hero."
"
We had one of those up north a few years back. His name was Custer.
"
– Irina Carnarvon and Shalako Carlin, respectively, in the western novel 'Shalako'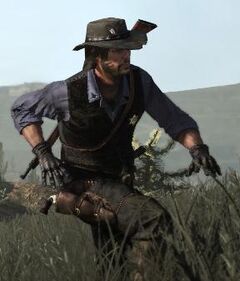 About me
Well, I'm an American teenager who loves playing video games and airsoft, and chillin' with my friends. I edit a few different wiki's here and there, but this is where you'll find me the most. I absolutely love writing, and hope to be an author some day. I've written several stories, mostly western, fantasy, action, or sci-fi, and have posted them on different websites. Anyway, I'm a Christian, too, and I'm blessed to have such great Christian family and friends. God bless, everyone! 

Pictures I Find Awesome
Funny Read Dead Redemption Pictures
NOTE: I didn't create, nor do I own, any of these awesome pictures....I'm just the awesome guy who posted them for your viewing pleasure