On April 15 from 16:00 - 19:00 Eastern Time (4:00 PM - 7:00 PM), Rockstar is hosting a Social Club Multiplayer Event. During these events, Rockstar developers invite players to join them in playing various multiplayer game modes. Live video and chat are available during the event and generally contests are held with prizes ranging from t-shirts to full customized game consoles.
Lately these sessions have also included Triple XP for the duration of the event. Although the official event is being held for XBL only, both platforms get Triple XP. The next event for PS3 will be on May 6.
For those outside of the Eastern time zone, the following map may help convert to local time (click to enlarge the thumbnail). Eastern Time is zone "R" (-5). Remember that the International Date Line and Daylight Savings Time may alter the date/time calculation for you. Rockstar also includes a countdown timer on the event page to help determine the start time.
Original post: 2ks4 15:45, March 30, 2011 (UTC)
Updated for April 15 event: 2ks4 16:25, April 15, 2011 (UTC)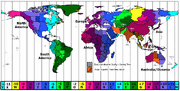 Community content is available under
CC-BY-SA
unless otherwise noted.