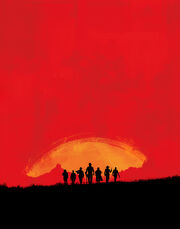 In light of recent events, the new Red Dead game (Red Dead Redemption II) has formally announced and we are excited as much as you are. However, keep the leaks and speculation to yourselves. Also, in regards to the articles, stick to the official information coming from Rockstar Games themselves and to the previews in the future. Please, follow the rules of this wiki and hope you have a good hype time right now.
To summarize:
Don't put speculative information or leaks to the articles related to the new Red Dead game!
Keep the future articles for RDRII clean and bright! Don't put too much and don't put too less.
Stay for incoming information from Rockstar Games and previews from gaming sites.
Have fun.
Community content is available under
CC-BY-SA
unless otherwise noted.