Rockstar Games had finally revealed of the storyline, it starts out when John Marston finds his wife possessed. Making him search all over the frontier looking for a cure. Announcing the new zombies, it also states Bigfoot is confirmed but instead is called Sasquatch. watch the video by going to Rockstargames.com but be aware, your in for a really cool scare. (Fail rhyming) :)
Boater - Be aware of this zombie. It will jump and leap at you until you are dead on the ground with a mob of zombies eating at your flesh. :)
Recher - This zombie vomits toxic goo at you and will 'eat you alive'.
Bruiser - A zombie that will bash into anything that blocks its path for blood.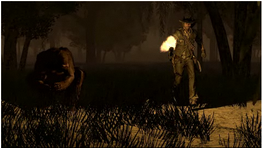 Another item added is finding missing people. Save them and the family will be happily and you will be richly rewarded.
The plague had spread to Bears, bats, cougars and much more. Try to stay alive.
just a tip. A good thing to stay alive is by keeping your ammo good. It is noted that all ammunition stores will be closed.
Oh and don't forget. Have a happy Halloween. :)
Community content is available under
CC-BY-SA
unless otherwise noted.