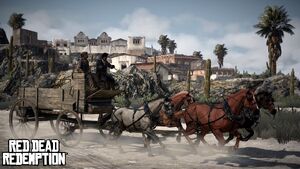 Wagons are vehicles featured in all three installments of the Red Dead series.
Description
Wagons are heavy, sturdy two to four-wheeled vehicles. In the times of the Red Dead series, they were pulled by horses, mules, or oxen. Most are pulled by two to four animals at a time depending on the weight of the load. Wagons are distinct from carts, which are smaller vehicles with just two wheels and which are pulled by only one animal.
Red Dead Revolver
The Prospector's Wagon serves as a type of General Store in Red Dead Revolver.
Red Dead Redemption
Wagons in Red Dead Redemption are found randomly in all three territories, driven by a pair of NPCs. The player can take over a wagon by either killing the NPCs or coming up to the side of the wagon and pulling the driver off of the wagon. Either act counts as a crime and can result in a Bounty and pursuit by law enforcement. In rainy weather, wagons will be found with tarps placed over them, to keep the supplies or people in the back dry. In multiplayer, wagons are found less frequently than in single player.
Just like a stagecoach, a wagon can protect the player from predatory animals. Animals will neither attack the horses nor the player while riding a wagon. Most animals, even bears, will in fact flee. And you can undo the horse from the cart by shooting/cutting the rope or flipping the cart over.
Red Dead Redemption 2
As in the previous game, wagons spawn across the world and can be stolen. They can also be sold to Seamus, the wagon fence at Emerald Ranch after "The Spines of America".
Red Dead Online
In Red Dead Online, wagons spawns randomly across the world, but the player can also buy their own wagons from stables or the handheld catalogue. To be able to purchase wagons, the player must unlock the wagons by ranking up the bounty hunter or the trader roles. These wagons are useful for the role they are linked to.
Wagons
Locations in Red Dead Redemption
Single player and Multiplayer:
Notes
Bugs
For other wagon-related bugs, please see: Glitches in Redemption and Glitches in Redemption 2
Gallery
Red Dead Revolver
Red Dead Redemption
Red Dead Redemption 2
See also
Related Content
Related Content for Wagons

Wiki Content
External Content
The links above will perform a search for the content that matches this page's name.