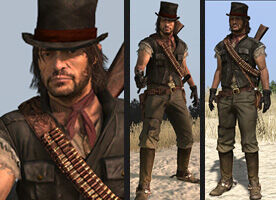 Walton's Gang Outfit is an outfit available in Red Dead Redemption, initially exclusive to the PlayStation 3 version of the game. As of October 2011, Xbox 360 players have access to the outfit by purchasing the GOTY edition of the game.
Description
This outfit allows Marston to pass as a member of Walton's Gang. When this outfit is worn, Marston can enter Walton's Gang hideouts without being attacked (until he initiates an attack). This outfit consists of Marston's trademark cutoff vest with what appears to be his tan button-up shirt with the sleeves cut off, along with a top hat and a pair of olive green pants tucked into his standard boots.
How to Obtain
Six Scraps must be obtained to complete the outfit.
Tips
Other players at poker can be eliminated one at a time – once eliminated the player will not rejoin the game. This means that the player can quit a round of poker and start over without additional players joining the game.
Another possibility is to draw a weapon upon entering the room. This will scare everybody out of their seats to run and hide, but one by one they'll return. Enter the game when just one person has sat back down.
A third way to do this task is to wear the Elegant Suit and get caught cheating by all but one player. This is faster than the first way and safer than the second, since the player can get rid of Walton's Gang members without all of them in the saloon becoming hostile. Unfortunately, all money that has been bet is lost when the player gets into a duel.
To easily get the 4th scrap, merely complete the main story mission "Political Realities in Armadillo" for Leigh Johnson and finish the mission by shooting Walton Lowe in the leg (orLasso him) to capture him. This gets the player the scrap, and saves them the trouble of doing a bounty by themselves and having to take the fugitive all the way back to town on their own.
Gallery
Related Content
Related Content for Walton's Gang Outfit
Wiki Content
External Content
The links above will perform a search for the content that matches this page's name.
Community content is available under
CC-BY-SA
unless otherwise noted.