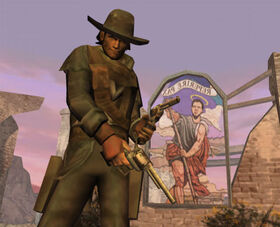 There are a variety of Weapons in Red Dead Revolver. These are the essential core of the game and a part of the Western life. The player starts on a weak weapon, as the story progresses, the player may then receive stronger weapons.
Firearms
Pistols
Rifles
Shotguns
Thrown Weapons
Video
[[Video:Red Dead Revolver - All Weapons|thumb|350px|left|All weapons in Red Dead Revolver]]
Related Content
Related Content for Weapons in Revolver
Wiki Content
External Content
The links above will perform a search for the content that matches this page's name.